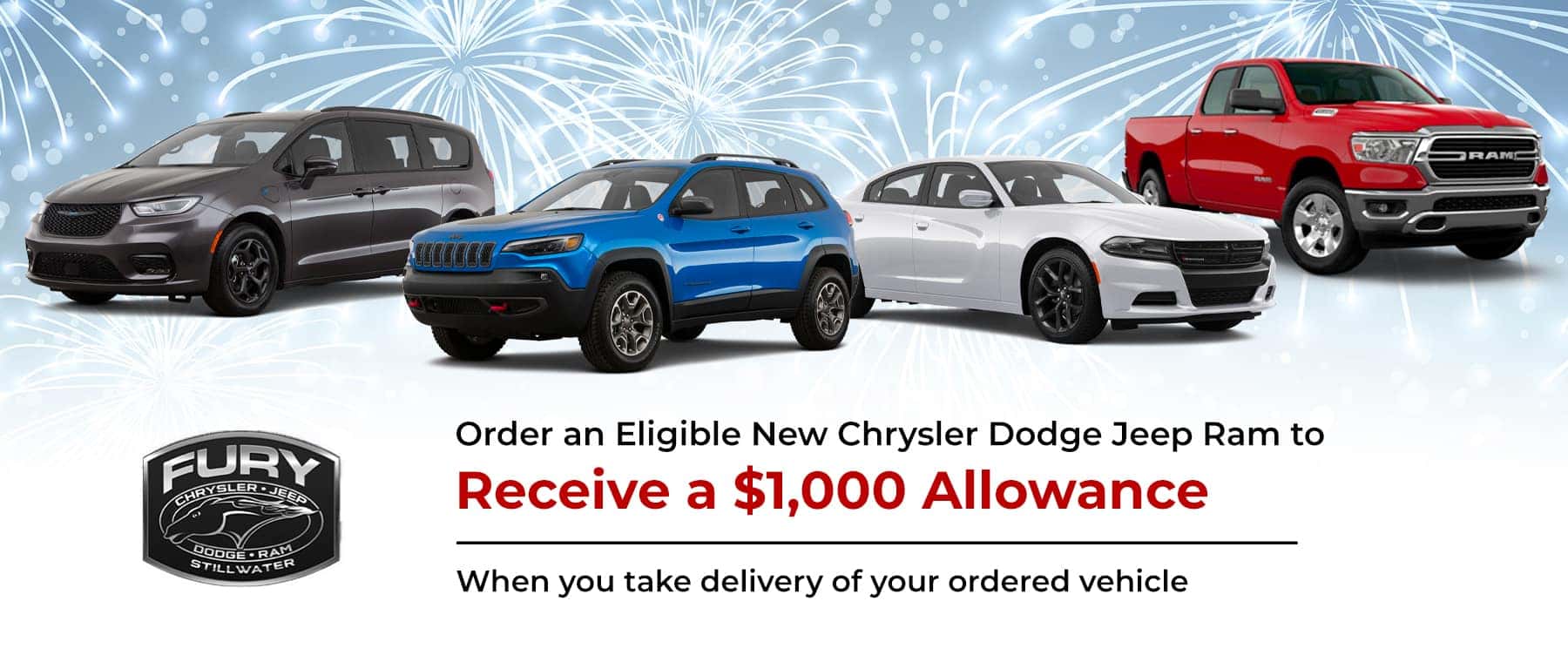 If you're coming off your lease or just need to upgrade to something different for your Maplewood commute, then find a new vehicle at Fury Motors Stillwater. But, don't delay! Reserve your vehicle at Fury Motors Stillwater today by filling out our reservation form online. Learn how to reserve your new vehicle by filling out our easy-to-use form, and see how you can get more out of your car-shopping experience when you visit Fury Motors Stillwater.
Order Your Vehicle
To receive the $1000 allowance, customer must place a retail order for an eligible 2022 Chrysler, Dodge, Jeep, or Ram vehicle. Eligible vehicles include ALL 2002 Chrysler, Dodge (excluding seat pack and ALL SRT), Jeep (excluding Wrangler), RAM (excluding TRX and ALL Promaster Vans). Customers must take retail delivery of the ordered vehicle within 10 days of delivery of the vehicle to the dealer. Substitutions are not allowed. Stock Units excluded. Not available with some other offers. See dealership for complete details.
How to Fill Out Our Form
To reserve your vehicle, all you have to do is fill out some necessary information on our form, and you'll be all set. To reserve your vehicle, follow these simple steps:
Enter your first and last name.
Enter your contact information, including your phone number and email address.
Enter any necessary information about your vehicle.
Leave any additional information or comments in the designated section below.
Submit/send the message.
That's it! Once you've submitted someone from the Fury Motors Stillwater team will be reaching out to confirm the availability of your vehicle for ordering.
It is important to note that you will not be making two payments if you currently owe on yours. Payments will not start until you receive your new vehicle. You can also reach out via the form below to inquire about getting out of your lease early. Fury Motors Stillwater can order your vehicle ahead of time so it is ready to go when your lease is coming to an end.
Why Choose Fury Motors Stillwater?
Why choose to do business with Fury Motors Stillwater? There are plenty of other dealerships in the Oak Park Heights area, but only Fury Motors Stillwater has the know-how and the experience to help you get what you want the first time. Plus, we offer some exceptional shopping tools and services like:
Don't delay any further! Reserve your vehicle today at Fury Motors Stillwater to make sure that it's still available by the time you come and get it.
Order Your Vehicle Today
For more information about how to reserve your vehicle at Fury Motors Stillwater, contact us today. Let us help make sure your vehicle is ready to go when you come to pick it up from Stillwater.
Order Form
If you are coming out of a lease, order your new vehicle NOW to guarantee the vehicle you want is available. We recommend ordering 90 days or earlier before the lease is up due to the worldwide inventory shortage. There's no payment until delivery, and you can start building your dream vehicle now.